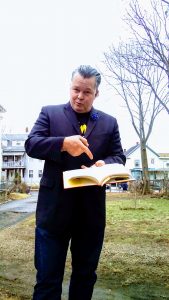 Education:
Master of Arts, Education, California State University-Dominguez Hills, 2005
Bachelor of Science, Education, Boston University, 1996
Associate's Degree San Diego Community College, 1993
Certifications:
Massachusetts Initial License, Social Studies, 5-9, 8-12; SEI Endorsement
David has been teaching and tutoring students in grades 4-12 for over 20 years, in English Language Arts, Math, History, Social Studies, and MCAS preparation. He prepares students for all sections of the ISEE and SSAT tests. He provides college students with English Composition support, including essay writing, organizing large projects, proofreading, and editing. He has extensive experience working with students with a wide range of special needs, including providing students with executive functioning support.
David says: "The student is the center of learning with my approach. I relate vocabulary/reading goals to experiences your child has or is interested in, and I employ interactive websites that are challenging at the appropriate level, maximizing your child's potential for classroom success and standardized test preparedness. Interactive Math websites are used to maximize exposure to specific standards and to target your child's needs. The website allows your child to understand why they get specific concepts wrong, gives them opportunities to self-test, and allows parents to monitor their child's progress. I also have a YouTube channel where students watch and respond to tutor-selected videos that target needed skills. Additionally, students can discuss videos with me instantly, making it a valuable tool for communication between sessions.
I love any sport that has teams who have interesting characters, I own three classic cars that make people appreciate the art and engineering of automotive design, I love powerful music, I love to learn, and I love staying connected with events that surround our communities, nation, and the world."
David was also named Sam's Club Teacher of the Year 2004.