For many people, the idea of studying abroad in Europe is attractive, but what about for an entire degree?  While it sounds like the domain of only the super-wealthy or geniuses, the fact is that just about anyone can study abroad in Europe for an entire degree.  Best of all, there are a number of really great advantages to doing so.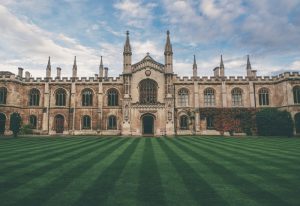 Saving Time and Money
First of all, you can expect to save a lot of time and and money by studying in Europe.  Chances are you may have heard that some countries like Germany have slashed tuition and fees for international students, often costing less than a thousand dollars per year.  While you still have to pay living expenses and travel, this is an incredible savings.
Even for the most expensive universities, such as those in the UK, the cost can still be lower.  Tuition and other expenses are often comparable to what many schools in the US charge for in-state students.  While financial aid is more limited, it is still available, and many loans work overseas as well.  Best of all, European degrees can usually be earned more quickly, meaning that you are spending less time paying tuition and more time making money.
Study What You Want
Most American colleges make you take general education requirements for up to a third of your total courses.  European universities are different.  You apply directly for a degree field, like history or business, and you study only relevant classes.  There are options if you want to take a language or something similar as an elective, but this is not required.
Also, you can forget "pre-med" or "pre-law".  European universities teach these subjects directly to undergraduates, and you can often transfer your qualifications back to the United States.  
Ease of Admissions
Finally, while many elite American universities expect a balancing act between classes, sports, work, and other activities, European universities care almost entirely about one thing: your academic ability as proven through standardized tests.  Chances are you're already taking these tests, like AP, IB, or SAT Subject exams.  Admissions officers will even tell you which tests to focus on, meaning that you can concentrate on what's important rather than balancing what's not.
Studying in Europe isn't for everyone.  You've got to know what you want to do, have an appetite for seeing the world, and be mature enough to be thousands of miles away from home.  For those who are ready, however, it can be an incredible experience and provide personal and professional opportunities that are otherwise unimaginable. 
An Education Abroad can help you achieve your dreams of studying overseas! Visit their Facebook page by clicking here or email them at info@aneducationabroad.com for more information.