Chestnut Hill School Open House 2019
by btsadmin. Posted in Open House -
Boston Tutoring Services is excited to share the Open House dates of local schools. Take the time to research these schools and visit the ones that seem like a good fit for your family. Open Houses are a great way to experience a day on campus and meet the staff. This week we are featuring The Chestnut Hill School located in Chestnut Hill, MA. 
The Chestnut Hill School Open House date is as follows:
Sunday, November 3rd from 11am-1pm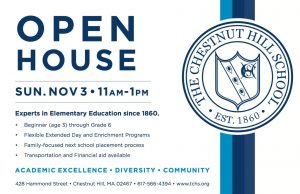 The Chestnut Hill School says: "Learn about our exceptional curriculum including Singapore math, innovative arts and sciences, world languages, building and engineering, technology/robotics, instrumental and choral music (all Kindergartners take violin!), and athletics. Discover how we teach academic excellence by challenging students to be curious, consider multiple perspectives, and take positive risks. Explore the way CHS lives its commitment to diversity and inclusivity with a curriculum that thoughtfully weaves critical thinking, social identity,= and social justice in a developmentally exciting way. Engage with student leaders to hear about their CHS experiences. Connect with current parents and feel the joy within our vibrant community!"
The Chestnut Hill School is an independent, coeducational elementary school located in Newton, Massachusetts. The school is comprised of a preschool program (starting at age 3), an all-day Kindergarten, and Grades One through Six. They educate students in a diverse, inclusive, and nurturing community where learning is infused with meaning, purpose, and joy. The school offers a rigorous, multi-dimensional curriculum that develops the whole child and provides a range of opportunities for students to engage in active learning. They believe students do their best both when they feel a sense of belonging and when they develop close personal relationships with adults and peers, and recognize the importance of family involvement in a child's education and value a cooperative home/school partnership.
The Chestnut Hill School
428 Hammond St
Chestnut Hill, MA 02467
(617) 566-4394
http://www.tchs.org/