School Closures Mount in US as Omicron Spreads
The number of school disruptions due to COVID-19, including school closures early ahead of the holiday break or announcing temporary returns to virtual learning next week, is on the rise – nearing the total number of disruptions recorded in late August, when schools were struggling to reopen against the backdrop of the delta variant.
The increased interruptions, as reported by Burbio, which has been tracking school responses to the coronavirus, is due to both increasing COVID-19 cases as a result of the introduction of the new omicron variant as well as to logistical challenges stemming from educator and staff shortages.
"Educators, administrators and support staff must be able to deliver in-person instruction and other activities in conditions that prioritize their own health, as well as the wellbeing of the school community," Monica Goldson, CEO of Prince George's County Public Schools, wrote in announcing a return to virtual learning this week. "The increased positivity rates have significantly challenged the ability to do so, causing anxiety among many school communities and disruption to the school day."
School closures in the Maryland school district, which serves 136,000 students, will continue until Jan. 14. Burbio found 646 instances of school disruptions – nearly double the number from the previous week – and is already tracking more than 400 instances of schools returning to virtual beginning the week of Jan. 2.
Evidence shows schools remain one of the safest spaces for children in terms of the risk of transmission, but they're also now one of the most vulnerable spaces since vaccination rates among children remain low. As it stands, 18% of kids ages 5 to 11 have at least one shot, as do 61% of children aged 12 to 17, according to the American Academy of Pediatrics, but the vaccination rate for children has dramatically slowed.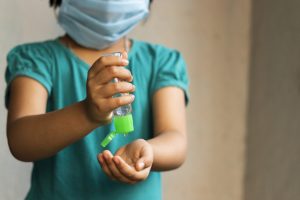 More than 164,000 coronavirus cases in children were reported the week beginning Dec. 6 – a jump of nearly 24% over the previous week, according to a report from the American Academy of Pediatrics and the Children's Hospital Association. The groups called this number "extremely high."
The developments come as the Biden administration is ramping up its focus on keeping children in school full time, including by endorsing test-to-stay policies and urging school districts to use federal coronavirus aid to fend off teacher and staff shortages.
Last week, Centers for Disease Control and Prevention Director Rochelle Walensky outlined new data on "test-to-stay" policies, in which students who have been exposed to the virus but show no symptoms can remain in school as long as they test every day or no less frequently than twice a week.
The strategy would replace current CDC guidance, which recommends children who have been exposed quarantine for up to 10 days – a policy that's shuttered whole classrooms for weeks at a time and made it difficult for educators to help students regain the academic, social and emotional losses incurred since the onset of the pandemic.
Also last week, Education Secretary Miguel Cardona directed school districts to "act with urgency" to use federal aid to blunt the impact of workforce shortages that are causing disruptions to every facet of the country's public education system – from classrooms to transportation to school meals to maintenance – and is, in some extreme cases, forcing school closures temporarily.
Roughly 1 in 4 district leaders and principals are reporting severe staffing shortages, according to a recent survey by the Education Week Research Center. And according to a recent survey by the National Association of Secondary School Principals, 68% of principals surveyed are concerned about teacher shortages and report it has been more difficult to hire qualified teachers since the onset of the pandemic.
To be sure, the vast majority of schools are still open full time for in-person learning. The Education Department recently released new data showing that 99% of students are learning in-person, compared to 74% of fourth-graders and 67% of eighth-graders who were enrolled full time and in person or in a hybrid model at the end of the last school year.
Notably, the new data shows that 99% of fourth- and eighth-grade students are attending school full time and in person in schools where 25% or less of the students enrolled are races other than white, as well as for those in schools where 76% or more of the students enrolled are races other than white – a major improvement from last school year, when the majority of schools still operating remotely or on a hybrid schedule served mostly students of color and students from low-income families.
Yet the good news is undercut by research reinforcing the significant learning loss that occurred over the last two school years, especially for Black and Hispanic students, for students with disabilities and those learning English and for students from low-income families.
According to a new analysis from McKinsey, students remain behind in both math and reading, and the gains made since the spring are uneven, with some students making up lost ground and others stalling out, further exacerbating decades-old achievement gaps. Students in majority-Black schools remain five months behind where they typically are in both math and reading, for example, while students in majority-white schools are now just two months behind where they typically are – meaning students in majority-Black schools are now 12 months behind their peers in majority-white schools, having started the pandemic nine months behind.
The findings are mirrored in new research from NWEA, an assessment company, that compares the test scores of 6 million public school students in grades three to eight from fall 2021 to students in the same grade in fall of 2019 – just prior to the onset of the pandemic. It found significant levels of unfinished learning, particularly in math, with historically marginalized students and students in high-poverty schools disproportionately impacted, especially in the elementary grades.
In addition, the NWEA research found that higher achievers made gains that were more consistent with projected growth, whereas lower-achieving students were more likely to fall short of growth projections – a concerning finding that also appeared in the most recent results from the National Assessment of Education Progress.
Closing those gaps will remain difficult if the number of school closures continues to rise – as it's expected to, despite recommendations from public health experts who continue to underscore that closing schools should be a last resort.
Allison Green
Boston Tutoring Services