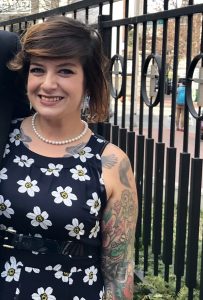 Education:
Master of Education, Teaching English to Speakers of Other Languages, Boston University, 2012
Bachelor of Arts, English, University of Massachusetts, Lowell, 2010
Certifications:
Massachusetts Teaching Licensure, Teaching English as a Foreign Language; English as a Second Language (PreK-6, 5-12)
Audrey tutors students in grades 3 through 5 and 9 through 12 in English Language Arts, including Reading, Writing, and Speaking. She specializes in ESL instruction and has extensive experience working with native Spanish speakers, among other populations. She is experienced in working with students with reading and speaking delays and enjoys customizing her curriculum to meet the specific needs of her students.
Audrey says: "Aloha, my name is Audrey. I have been in education for over ten years and specialize with English language learners, English language arts, and content area academic language tutoring. My interest in diversity and languages began when I was afforded the chance to live in Puerto Rico in high school. Since then, I have held numerous positions and have tutored and taught English Language Arts as well as served at the district and state level in Massachusetts (where I was born and raised) and Hawaii (where I worked and lived for a few years). When I'm not teaching, I enjoy music, sewing, taking walks with my rescue dog, Luna, and cat, Oliver, and gardening. I am also very passionate about writing, and have been published in various mediums, including the Chicken Soup for the Soul Series and Hawaii Teaching English for Speakers of Other Languages The Word. I look forward to learning from your family!"