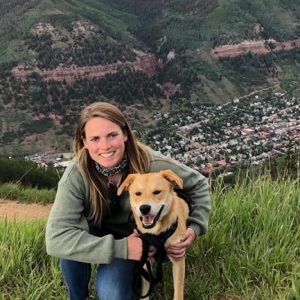 Education:
Master of Education, Secondary Education English, Boston College, 2014
Bachelor of Arts, English and Communication, Boston College, 2013
Certifications:
Massachusetts Professional License English, 8-12; Colorado Professional License English, Grade 7-12; Sheltered English Immersion (SEI) Endorsed 8/31/2014; Denver Public Schools ELA-E Certification
Jen has been teaching for 8 years and tutors students in grades 6 through 12, specializing in English Language Arts (Literature, essay writing, and creative writing). She has extensive experience working with English Language Learners (she also speaks Spanish). She differentiates her instruction to meet the specific needs of Gifted and Talented students, as well as students with a wide range of special needs, especially ASD. She supports students in organization and study skills. She tutors students in the verbal (Critical Reading and Writing) sections of the SAT test.
"Jen is a passionate teacher and tutor who is committed to building relationships with young people to support them in uncovering their strengths and reaching their potential. She has been rated a distinguished educator for her time in Denver Public Schools and firmly believes all students deserve the opportunity to discover and pursue their passions. Over the course of her experience in the classroom, Jen has helped students of all backgrounds experience meaningful academic progress according to their individual goals and learning styles. She started her education career working for Outward Bound, which taught her the importance of building social and emotional skills such as collaboration and perseverance in order to support academic learning. Her passion for the outdoors transfers to her personal life as well. She recently moved back to Massachusetts, her home state, from Colorado, where she spent five years exploring the mountains through skiing (her favorite pastime), hiking, and camping with her husband and dog, Winnie. She is a true Bostonian at heart, though, as an alum of Boston College (B.A. and M.A.) with a love for Boston sports teams like the Patriots and Bruins."