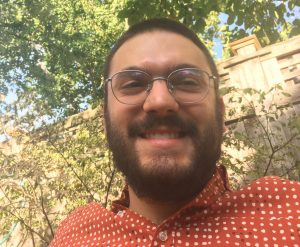 Education:
Master's of Education, Harvard Graduate School of Education, 2020 
Bachelor of Arts, Social Anthropology, Harvard College, 2016
John tutors students in grades 3 through 10 in English Language Arts, humanities, and math. He has experience working with students with ADHD and executive functioning delays, and provides homework support and general organization skills. He is experienced in developing curriculum to meet the specific needs of his students. He also has been teaching music production, beatboxing, and poetry for several years. Additionally, he attended Cambridge Rindge and Latin High School.
John Tournas is an educator, musician, and teaching artist originally from Cambridge, MA.  For the past 10 years, he has taught English Language Arts, beatmaking (music production and technology), and beatboxing (vocal percussion) to K-12 students throughout the East Coast and internationally. He is the editor of the Beat Rhymers Curriculum (available on Amazon), which provides tools for educators to incorporate the cypher and other types of culturally relevant pedagogy into classroom settings. While he is not teaching, he can be found playing saxophone with local music groups, composing music for film, or hanging out with his cat Juno.