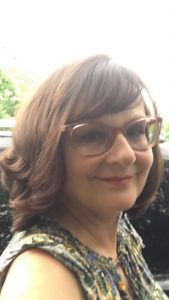 Education:
Master of Humanities, California State University-Dominguez Hills, 2014
Teacher Certification Program, Framingham State University, 1999
Bachelor of Arts, English, Worcester State College, 1994
Certifications:
Massachusetts Professional Teaching Licensure, Elementary (1-6), English (5-8, 9-12); Initial Licensure, Theater (all levels)
Angel has been teaching for almost 20 years, and is experienced in working with students on English Language Arts/Humanities (Grades 4-12) and Math (Grades 4-8). She has prepared students for the MCAS tests and developed curriculum for MCAS prep programs. She is experienced in working with students with a wide range of special needs, such as Executive Functioning Delays, Autism Spectrum, ADD, Attentional and Behavioral Needs. She also had a previous career as a Registered Nurse.
Angel says: 
"My teaching philosophy centers on helping students to attack their current assignments while providing them with a rich toolbox of skills they can internalize to use going forward.  Really listening to students to assess how and why they may be struggling allows me to tailor my instruction to the whole child while building on their strengths.  Many students benefit from organizational strategies as well.  
I spread a growth mindset that helps turn "I won't," to "I will,"  "I can't," to "I can," and "I didn't," to "I did."  Modeling a curiosity and passion for lifelong learning is contagious and exhibiting a positive attitude of  mutual respect builds rapport that enhances both academic and social emotional learning.  Witnessing the joy on my students' faces when they achieve their goals and gain confidence is a reward worth the commitment I bring to my profession."