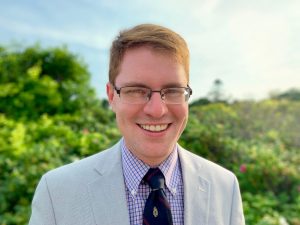 Education:
Master of Divinity, St. John's Seminary, 2019
Bachelors Degree, Thomistic Thought, Saint Philip's Seminary, 2015
George
 tutors students in grades six through 12 in Latin (all levels), French (all levels, he's fluent), and English Language Arts. He is also proficient in Greek. His English Language Arts instruction support students in reading, writing, and grammar skills. Additionally, he has extensive military experience as well as experience in seminaries in Italy, Canada, and in Massachusetts.
George says, "I completed my Divinity studies in 2019 with a concentration in Latin Theology and a heavy emphasis on the French commentatorial tradition. This meant that I had to constantly perfect my knowledge of Latin and French along the way. I have been tutoring students of various ages since 2012 in Latin and French. Over the years, I began to note the different ways in which students learn languages. One of the most common problems seems to be that students are allowed to miss fundamental pieces of language acquisition. They then try to launch into more advanced materials without proper mastery of the fundamentals. The parts and paradigms of language can be learned in different ways, but the parts will not be synthetically comprehensible unless they are mastered in the beginning. My job is to teach the parts in a way that makes sense to each student, but the student still needs to be able to produce the parts in order. If you need a tutor to prepare for a test, I can help with that. It is also important to recognize that unless we master the fundamental components of grammar, the student is going to continue to need a tutor. One of my goals is to make the student more self-sufficient in his or her language acquisition. To realize this self-sufficiency, the student should not just know what the right answer is, but why it is the right answer. Additionally, in my personal life, I enjoy running, hosting parties, research in humanities, and historical minutia. I have traveled to over 15 countries and have come to the realization that I could live anywhere, but I prefer the American lifestyle. I love living in the city of Boston and availing myself of the social and intellectual opportunities that it affords."