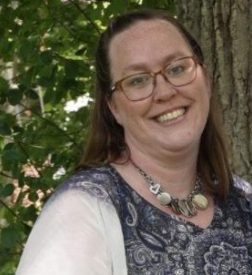 Education:
Bachelor of Arts, English and Communications, Assumption College, 2000
Certifications:
Massachusetts Teaching Licensure, English 5-12
Jamie tutors students in grades 4 through 9 in all subject areas (Math, Social Studies, Science, and English). She specializes in English Language Arts and has developed extensive curriculum for vocabulary, grammar, and writing. She homeschooled all of her children and is extremely experienced in working with homeschooling families. She is experienced in working with students with special needs, especially struggling readers, and supports students in executive functioning skills, study skills, and organization. Her teaching certification in Literacy/English Language Arts is pending. She also has several certifications from the Roman Catholic Archdiocese of Boston, and served as a teacher of theology and many other roles within the church.
Jamie says: "I'm a mom of five kids, aged 8-15, and I love the sense of organized chaos that a big family brings. I love growing our own food, baking bread, crocheting and reading. My favorite season is summer, but fall is a close second! I love to teach because I love the look in kids' eyes when they realize they have learned or mastered something new! I try to inspire students to find something they love about a subject area and to get creative and passionate about it. "