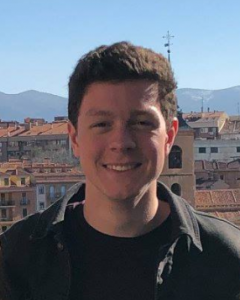 Education:
Bachelor of Arts, International Affairs & Spanish, Northeastern University, 2020
Certifications:
Common European Framework of Reference for Language C1 certification
Joey tutors students in grades 3 through 12 in English Language Arts, Social Studies, and Spanish. He is currently pursuing his Master's of Education in Teaching English to Speakers of Other Languages, as well as his teaching licensure in ESL 6-12. He taught English to students in Spain and Spanish to undergraduate students at Northeastern University.
As a tutor, Joey offers a unique service to those students looking to strengthen their language skills—whether it be their first or second. As a student, Joey has spent years traveling and learning languages, both formally and informally, and considers it one of his greatest passions. He is also a self-taught guitarist who has performed at various open mic events in Boston. Joey is a former baseball player and avid fan of the Boston Red Sox.