Back-to-school organization and shopping is exciting for your kids, but choosing cute school supplies isn't the only thing you have to think about. As a parent, you have to plan lunches for your picky eater, figure out how to organize the endless amounts of paperwork that comes your way during the school year and pinpoint clever ideas to streamline your morning routine. If you're feeling stressed about all of these little details, the best way to tackle them is to be proactive by adopting smart organizational hacks.
Start off the new school year stress free by considering these back-to-school organization ideas and tips. These tips won't break the bank, either. You'll only need to set aside some time at the beginning of the school year to implement these organizing solutions, and if you maintain them regularly throughout the year, day-to-day school activities won't seem like a chore.
1. Build the ultimate homework station. In order to organize a powerhouse homework station, you must first understand the needs of the child or children. Organize the necessary tools and supplies in bins or baskets, and color code them if they're being used by multiple children. Label every bin and basket. Assign a spot to display artwork or notes of encouragement. Be sure the space is well lit!
2. Transform a closet into a book nook. Make reading a joy for your child by turning a drab closet into a charming haven for books. Paint the walls in a bold shade, like yellow, to make the small space a focal point. This back-to-school organization idea could help foster a love of reading in your child.
3. DIY a mudroom. Keep everything you need to fly out the door by the door, so you can avoid running around the house when it's time to go. Hang coats and backpacks on hooks and keep shoes (and clean socks!) below. Store each child's backpack here as well so it's easy to grab every morning.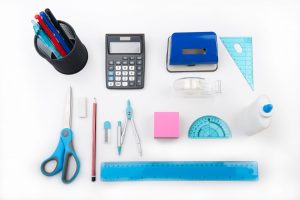 4. Pack a bag. Families often spend a lot of time on the go, so stock up the family vehicle with things kids may need to do homework. Keep pre-made kits in your car, so you always have what you need. Fill one with tech needs like spare chargers and batteries, and another with homework helpers like a calculator and extra pens and pencils.
5. Stay connected. Download a family calendar app to keep everyone's schedules straight and color-coded. Plus it allows for shared reminders and editable shopping lists, so you'll never forget when it's your turn to bring snacks to soccer practice again.
6. Get kids out the door faster. Late on the first day? Not a good look. Keep stragglers in line by setting an alarm clock or timer to ring at strategic intervals, like 10 minutes before the bus comes.
7. File everything. Create a "home file" for the year with a file box or a cabinet drawer. Each class gets its own color-coded file for easy searching. Not only does this system give kids a place to unload past assignments, it also helps them organize reference materials (e.g., a periodic table of elements) as the semester changes.
Does your child struggle with organization? Please click here to see how Boston Tutoring Services can help.