We specialize in working with children who will be entering first grade, but still find learning to read challenging. We also help students in first grade who are not reading on grade-level.
Our approach to tutoring first grade reading help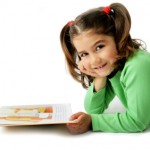 Our tutors begin with an assessment in order to create a personalized, developmentally-appropriate plan for your child. Some children just need to be challenged in order to reach their full potential, while some are not yet reading, or are reading at a Kindergarten level. Through one-on-one private instruction in your home, we help your child attain the literacy goals we have set. We work with hands-on materials and many forms of texts so that your child remains engaged during our tutoring sessions.
We reassess your child regularly, so that modifications and adjustments can be made as needed. Whether your child is already reading or has not yet achieved this skill, we will be able to improve your child's reading strategies, that's what first grade reading help means to us. Every child becomes a reader, but each child may need a variety of avenues to get there. Confidence-boosting is essential for growth, and our tutors provide encouragement and support through our work together, so your child knows that he or she CAN meet his or her goals.
First Grade Reading Help Packages
5 60-Minute Sessions
10 60-Minute Sessions
20 60-Minute Sessions