Contention Over Masks in Schools Rises as Academic Year Begins
by Allison. Posted in COVID-19 -
It's still August, but the 2021-22 school year has started for some students around the country, even as coronavirus cases are rising sharply in places with low vaccination rates and contentious debates about masks in schools are escalating. Despite strong hopes that the new school year would mark a return to full-time, in-school learning normalcy after more than a year of unprecedented pandemic disruptions, school district leaders are facing new challenges to achieving that goal.
With the now-dominant delta variant of the virus far more contagious than earlier ones, coronavirus cases are sharply rising among Americans who have not been vaccinated. Nearly half of the country has been fully vaccinated, according to the U.S. Centers for Disease Control and Prevention.
For unvaccinated, coronavirus is soaring again
Health officials say there is no evidence that the delta variant affects children and adolescents differently than earlier strains — and the vast majority of the 4 million young people who were infected since the pandemic began did not become severely ill, with many showing no symptoms. Health officials say, though, that because the delta variant is more contagious, more children could get it and carry it home to people who aren't vaccinated. Vaccinated people can also get what is known as "breakthrough" infections, though hospitalizations and deaths are nearly all among the unvaccinated.
As complications with the delta variant continue to emerge, school district officials looking for masking guidance from expert sources are finding differing information. Francis Collins, MD, director of the National Institutes of Health, says it's impossible for the CDC to come up with indoor mask guidance that applies everywhere, given the different circumstances across the country. "When they made their recommendation about it being safe to take masks off if you're fully vaccinated, including indoors, that was before the delta variant began to appear and before we realized how much of a hesitancy problem was going to exist in some parts of the country."
The CDC has said that vaccinated students and adults do not have to mask in schools but that all unvaccinated people should. President Biden said on July 21 that the CDC would "probably" recommend that all children under 12 — who are not yet eligible for vaccination — wear masks in school. But the American Academy of Pediatrics, the nation's leading association of pediatricians, as well as some other health experts, have recommended that everyone over age 2 wear masks indoors, including those who have been vaccinated.
Pediatricians group recommends masks in schools even for the vaccinated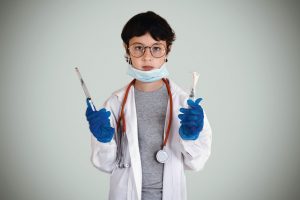 Francis S. Collins, director of the National Institutes of Health, said he trusts the AAP. "They will not be popular amongst parents and kids who are sick of masks, but you know what? The virus doesn't care that we're sick of masks," Collins said Monday in an interview with MSNBC.
Wearing masks has been cited by health experts as one of the most effective health measures to stop the spread of the coronavirus. In late June, a report by two Duke University scientists who reviewed data from March through June 2021 in 100 school districts and 14 charter schools in North Carolina found that wearing masks effectively prevented the transmission of the virus in schools and on buses even without physical distancing.
But those opposed to mask mandates say local areas should have the choice about what to do in schools, depending on local conditions. Many states are not requiring masks to be worn in schools — even in the unvaccinated — leaving it up to districts to decide. But some Republican-led states, including Arkansas, which has one of the highest infection rates, have barred schools and government agencies from issuing mask mandates. A group of Democratic legislators in Arkansas has urged the ban to be lifted.
Vaccines are currently only available to Americans age 12 and older, which is why the state of Virginia is strongly urging that everybody in elementary schools — children and adults — wear masks indoors when the 2021-22 school year begins. The new recommendations call for everybody in middle and high schools who is not vaccinated to wear masks indoors. The recommendations, however, are not binding, and school districts can make their own rules.
Virginia urges students to wear masks indoors this fall
In Democratic-led California, the Department of Public Health on July 12 ordered that all students and staff inside K-12 schools should wear masks — regardless of vaccination status — but announced hours later that it would maintain its mask order but let districts decide how to carry it out and enforce it. Two advocacy groups have sued state officials over the mandate. While some districts, such as the Los Angeles Unified School District, the second-largest in the country, said they would enforce the mandate, others have said they would not.
Linda Darling-Hammond, president of the California Board of Education, said last week at a Washington Post Live event that masking for everybody in schools is the safest way to proceed for now. "Not only do we have the delta variant, we have epsilon, all the way up to lambda," she said. "Case rates are doubling. … Everybody wants to take their mask off. Until then, we should do the safest things we can in schools for kids," she said.
In the Chula Vista Elementary School District in Southern California, the 2021-22 school year began on July 21 with a full-day, in-person schedule. At Enrique S. Camarena Elementary School, Principal Debra McLaren told Fox 5 that all but about 50 of approximately 1,000 students signed up for in-person learning. At the festive opening, McLaren danced to Bobby McFerrin's "Don't Worry, Be Happy" and said, "It's exhilarating," Fox 5 reported.
In Florida, Gov. Ron DeSantis (R) has made clear strong opposition to mask mandates in schools — despite a rising number of coronavirus cases in the state and demands by some parents that masks be worn. "There's been talk about potentially people advocating at the federal level, imposing compulsory masks on kids," DeSantis said. "We're not doing that in Florida, okay? We need our kids to breathe."
In Orange County, Fla., some teachers and parents are demanding that masks be required, according to WFTV, though the school board so far has made no move to mandate them. "They must revisit this before preplanning, before teachers have to return to school," WFTV quoted Orange County Teachers Association President Wendy Doromal as saying. "And certainly before students have to return to school. It's very reckless to make decisions and not look at them again."
In New York City, the nation's largest public school district, all students and adults will be required to wear masks when the new school year starts. Mayor Bill de Blasio (D) said at a news conference that the mandate could change but that "we'll be driven by the data we see and the science as always."
In neighboring New Jersey, Gov. Phil Murphy (D) said he would drop the state masking requirement and allow districts to make their own mask rules. And Roy Cooper, the Democratic governor of North Carolina, where some students just started the 2021-22 school year in person, said something similar: He will not reinstate a mask mandate when it runs out at the end of July but issued recommendations for schools. Saying "we know masks work," Cooper, along with the state health department, recommended that everybody in grades K-8 should wear masks inside a school building, while only the unvaccinated should do so in grades 9-12.
In Durham, N.C., schools, where some students have started the new school year, everybody will wear masks for now. "I'm not going to predict any action by our board but we know that masks work and masks make a lot of people more comfortable," ABC11 quoted Chip Sudderth, Durham Public Schools' chief communications officer, as saying. "And so that's how we're going to start the school year."
With covid-19 hospitalizations rising in Louisiana, Gov. John Bel Edwards (D) and the Louisiana Department of Health just issued updated guidance saying that all people — whatever their vaccination status — should wear masks indoors when they can't distance at least six feet. The guidance, however, isn't binding.
Kavita Patel, a physician who is a nonresident fellow at the Brookings Institution think tank and a former policy official in the Obama administration, said recently on MSNBC's "Morning Joe" that having everybody wearing masks made more sense than trusting people who are not vaccinated to always wear one.
"What we are seeing right now is that people aren't doing it," she said. "We are kind of trusting everyone, and I don't see a reason to do that." Peter Jay Hotez, founding dean of Baylor University's National School of Tropical Medicine at the Baylor College of Medicine and an expert on vaccines, said recently on MSNBC's "Stephanie Ruhle Reports" that universal mask mandates should be imposed rather than having school officials spend time determining who has been vaccinated and who hasn't.
This article originally appeared on the Washington Post.