20 Graphic Novels for Reluctant High School Readers
by Allison. Posted in High School, Reading -
Graphic novels take the text of a story and pair it with corresponding imagery, usually in the form of a comic strip or sequential art. As graphic novel authors have ventured outside of superhero narratives and improved at representing more diverse characters, graphic novel sales have soared. What's fueling the recent rise in graphic novel popularity? Other than greater representation, many educators are finding that graphic novels are useful resources for struggling readers or students who profess that they do not enjoy reading.
Why might that be? Because…
They can help students develop empathy by using visual images to show shared experiences and traits.
They can help students develop visual literacy, which involves understanding plot, characters' motivations, and making inferences.
They can provide multimodal reading experiences for English Language Learners and reluctant readers.
They force the reader to interact with the text by figuring out the relationship between the text and the images.
Interested in trying out a graphic novel? We've compiled 20 of the best graphic novels for reluctant high school readers, but really, for any reader.
1. The Giver by Lois Lowry and P. Craig Russell. In Jonah's society, there is no pain, no war, no hatred, no prejudice, and no individuality. Jonah is awaiting the Ceremony of Twelve, where he will receive his Assignment as a new adult member of the community. When he is named as Receiver of Memory, he meets the Giver, who transfers memories to Jonah by placing his hands on his back.
2. Speak: The Graphic Novel by Laurie Halse Anderson and Emily Carroll. Melinda is having a difficult start to her first year in high school. Notorious for busting an end-of-summer party (where she was sexually assaulted by an older male student). Readers watch Melinda go through the motions as she uses art to speak her truth.
3. The Handmaid's Tale: The Graphic Novel by Margaret Atwood and Renee Nault. As a handmaid in Gilead, Offred and her fellow women cannot hold jobs, read, or make friends. Handmaids are valued for their fertility, and each month, Offred must lie on her back while the Commander attempts to impregnate her.
4. Anya's Ghost by Vera Brosgol. Anya is embarrassed by her family, self-conscious about her body, and not fitting in at school. If that's not tough enough, Anya falls down a well, meets a ghost, and becomes best friends with them.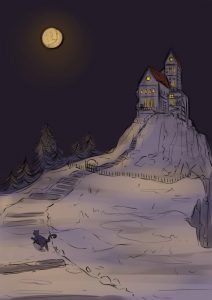 5. Pumpkinheads by Rainbow Rowell, Faith Erin Hicks, and Sarah Stern. Deja and Josiah work together at the seasonal pumpkin patch, then don't see each other for the remainder of the year. In their senior year, it is their last season together. They decide to turn it into a thrilling adventure.
6. Hyperbole and a Half by Allie Brosh. In this delightful and hilarious graphic novel, the author takes a self-deprecating look back at anxiety in her life. As graphic novels go, this is a quick but good read.
7. Kindred: A Graphic Novel Adaptation by Damian Duffy and Octavia Butler. Taking place in the 20th century antebellum South, Kindred tells (and visualizes) the story of Dana, a young black woman who travels back in time from her 1970s California home to the pre-Civil War South, where she becomes embroiled in a conflict with a slaveholder and ancestors enslaved by the slaveholder.
8. The Graveyard Book by Neil Gaiman and P. Craig Russell. Nobody Owens (aka Bod) is the protagonist in this graphic novel about a boy growing up in a graveyard, being educated by ghosts, and navigating the boundary of the world of the living and the world of the dead.
9. The Complete Persepolis by Marjane Satrapi. In Persepolis, Marjane Satrapi tells the heartbreaking story of her coming-of-age in Tehran during the Islamic Revolution, her high school years spent in Vienna, and her self-imposed exile from Iran.
10. I Was Their American Dream: A Graphic Memoir by Malaka Gharib. Malaka Gharib narrates the tale of her teenage years as the daughter of Filipino and Egyptian immigrants navigating an all-American culture.
11. Lighter Than My Shadow by Katie Green. Katie Green's graphic novel illustrates her experience struggling with and recovering from an eating disorder.
12. Spill Zone by Scott Westerfeld and Alex Puvilland. Poughkeepsie was destroyed by a deadly spill, which claimed the lives of Addison's parents and left her younger sister mute. Addison approaches the Spill to take exceptional photographs that she later sells. When a million-dollar offer is extended, Addison ventures closer to the Spill Zone than she has ever attempted.
13. Be More Chill by Ned Vizzini, David Levithan, and Nick Bertozzi. Nerdy Jeremy Heere is infatuated with gorgeous Christine, who is way out of his league. Enter the 'squip' — a pill-sized swallow-able computer guaranteed to bring its consumer what they most desire in their life. Naturally, after a series of 'nerd makeover' events, consuming the squip starts to have some disastrous consequences.
14. Dune: The Graphic Novels by Brian Herbert, Kevin Anderson, Frank Herbert, and Raul Allen. Paul Atreides' family has just accepted control of the planet Arrakis, where spice is abundant but terror awaits. Dune weaves a tale of colonialism, capitalism, environmentalism, and politics.
15. Displacement by Kiku Hughes. Similar to Octavia Butler's protagonist in Kindred, Kiku finds herself transported from her vacation in San Francisco to the 1940s Japanese-American internment camp that housed her deceased grandmother, Ernestina.
16. Long Way Down by Jason Reynolds and Danica Novogorodoff. After Will's older brother, Shawn, is shot and killed, Will decides to take revenge. Told over the span of a single elevator ride, Long Way Down shows how violence is a cycle and revenge may not be worth it.
17. Miss Peregrine's Home for Peculiar Children: The Graphic Novel by Ransom Riggs and Cassandra Jean. At Miss Peregrine's, all of the children are peculiar…they look peculiar and have peculiar abilities, according to Jacob Portman's grandfather's stories. When Jacob's grandfather dies, Jacob sets off to determine the truth about his grandfather's tales.
18. American Born Chinese by Gene Luen Yang. Three different characters' stories come together in this whimsical, hilarious graphic novel: Jin Wang (a Chinese-American new kid), the Monkey King, and Chin-Kee (a negative Chinese stereotype, personified).
19. Squad by Maggie Tokuda-Hall and Lisa Sterle. Becca is the new girl invited into a clique by the high school's most popular girls. When she learns that they are werewolves who 'prey' on boys who take advantage of girls, she wants to become a werewolf, too. Of course, things get a bit complicated when Becca develops feelings for one of her new friends.
20. The Complete Maus by Art Spiegelman. The story of Vladek Spiegelman's experience as a Jewish survivor of the Holocaust, who narrates his story to his son, Maus uses cats as Nazis and mice as Jews to bring readers close to the ugliness of genocide and prejudice.
Allison Green
Boston Tutoring Services