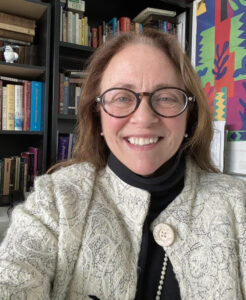 Education:
Master of Education, Secondary Education, Johnson State College, 1997.
Bachelor of Arts, English, State University of New York at Potsdam, 1982.
Certifications:
Massachusetts Academic Professional Teaching Licensure, Secondary English (2017); North Carolina Standard Professional II (2014).
Cynthia has been teaching for over 22 years, specializing in English Language Arts. She tutors students in high school and at undergraduate level in ELA (including IB and AP) and history/social studies. She prepares students for the verbal sections of the SAT and ACT tests. She supports students through the college preparation admission process, especially applications and admission essays. She has extensive experience supporting English language learners. She is experienced in working with students with a wide range of special needs, including executive functioning delays, dyslexia, ADD/ADHD, and ASD.
Cynthia says: "I love literature and writing!  One of my favorite tutoring experiences is working one-on-one with seniors as they write their college admission essay. The personal essay is not one most students are comfortable writing, and to make an impact for admissions staff, students often need support in writing an impactful reflection. As an experienced AP English Literature Reader, I am thrilled to use best practice techniques to teach my students and prepare them for the AP exam.
Personally, I love gardening and walking in the forest with my big hairy dog Murray. We travel to visit friends up and down the East Coast. As an English teacher, it isn't just my job to read, I also love reading for pleasure. I read about 80 books a year! Travelling abroad is also a favorite experience for me. Last year I went to the Basque region of Spain. I've also been to Portugal, Mexico, Puerto Rico, Italy, and France. I was even on a teacher exchange in Japan for three weeks a few years ago!
Overall, my passion is working with students of all abilities. It is very fulfilling for me as a teacher to help students improve their understanding of the texts they read, their writing, and their confidence in learning.
It would be wonderful to work with YOU!"