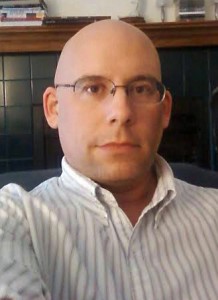 Education:
Bachelor of Arts, Computer Science, Boston University, 1991
Jim has been a tutor for over 33 years, working one-on-one with students from the first grade level through college, both privately and professionally through various tutoring services and agencies. He has a broad range of experiences teaching academic subject matter and study skills to students in many subjects, including Biology, Latin, Algebra I, and SAT/ACT Math as well as English grammar, reading, and writing. He is experienced in working with students with a wide range of learning needs, including students with Special Needs, and especially those with anxiety and stress around the test-taking process. Jim tutors middle school and high school students in standardized test preparation (SAT, ACT, ISEE, SSAT, MAPs, HSPT), MCAS preparation, and homework help and is available to assist high school and college undergraduate students in paper writing and study organization.
Jim says, "After graduating from Boston Latin Academy in 1986 I went on to earn my Bachelor of Arts degree in Computer Science from Boston University.  I've worked full-time as a professional computer programmer ever since.
As a tutor I guide my students in learning both the facts of the subject at hand and, more importantly, how they can best approach and learn that subject. I see to it that our goal becomes not only to earn high grades and test scores but also for my students to become people who understand the process of learning and how to accomplish it in all of their academic subjects.
When I'm not tutoring or programming computers I enjoy helping international students learn English and experience American culture.  Also…just so you know…I bake the best baklava you've ever eaten."
_________________________________________________________________
Testimonials:
"All the tutors we spoke to were impressive and likeable, but we chose Jim Vlachos as he appeared to be the most experienced, and this shone through with his tutoring. He was always reliable and never cancelled a class, and was punctual and had the necessary books and exercises for our son to do between tutoring sessions. He gave him extensive homework and asked him to write vocabulary cards as well to help in his tests. Jim is serious and quiet, which I preferred as I simply wanted my son to put his head down and work. Jim suited this method perfectly. Anyone wanting a live wire or someone very talkative would find Jim perhaps not suitable, but in all aspects I found he brought my son a long greatly in his knowledge and ability to take the SSAT and ISEE. And seeing as my son has just found out he has been offered a 9th grade place at BC High this September 2018, I would say Jim did a very good job preparing our 14-year-old son.  Jim was very pleased to hear our son's news and is keen to see what other offers he might receive, which is over and above what he is required to do.We are very grateful to Jim and Boston Tutoring Services for their help and would use them again for our other two younger daughters, and recommend them to friends and family." -Amanda R., Boston
"I just want to let you know that my daughter sat for her SSAT and is pleased with her scores. She is very grateful for your help ("I couldn't have done it without Jim Vlachos."), and based on the schools she is applying to, she won't have to re-take the test. As her parents, we also want to thank you for your excellent tutoring support. You clearly engaged her with the test preparation process, and motivated her to work hard on this over her summer vacation." -Chris B., Arlington
"We really enjoyed working with Jim Vlachos. He was patient, thorough, and effective! Our daughter's points on the SSAT went up by 50 points." -Robyn
"We are indeed very pleased with your services, and we are very happy to have Jim Vlachos as a tutor. Our son is enjoying his lessons, and he feels that he is learning a lot every time, and definitely improving his skills. Jim is very professional, knowledgeable and a very efficient tutor. We feel very lucky to have him." -Natalia
"Boston Tutoring Services was prompt with providing information about their services. Without applying pressure, they allowed me to speak with multiple tutors to find one that would be the best match for meeting my son's tutoring objectives. Jim Vlachos was punctual, professional and helped to get my son into a rhythm of taking practice tests and reviewing areas that needed improvement." -Bob
"We are so pleased with Boston Tutoring Services. We were quickly matched with an expereinced tutor, Jim Vlachos. We have been impressed with Jim's professionalism, patience, and approach to learning. He quickly developed a great rapport with our daughter and worked with her through some difficult sessions, particularly in math. We have worked with tutors in the past but this was a totally different expereince. My daughter looked forward to working with Jim. The added benefit was that while Jim's sessions were focused on prepping for the SSAT and ISEE tests, they also helped support her learnings in class. Many thanks for your help and we look forward to using your services again." -Karen S., Medford
"I just wanted to let you know that the tutoring experience which my son received from Jim Vlachos was extremely rewarding. Jim was excellent; he was always prompt with appointments, very patient, helpful and his tutoring style was perfect for my son. My son was confident on the SATs and felt he did very well due to the tutoring specifically. I would recommend Jim Vlachos and will whenever the opportunity arises–he was great!" -Jeanne M., Quincy
"My son scored an overall 87 on the SSAT. He also took the HSPT and scored in the 98th percentile overall for that test. We thought Jim Vlachos was awesome, he made sure my son knew the layout of the test, what to focus on and what material he needed to work on during his own time. My son applied to Dexter and got in there but he will be going to Xaverian Brothers with a 4 year Academic Scholarship which is directly related to his test scores. I have 2 other boys and will definitely do the same route with them as well as the SSAT prep when that time comes. Thanks so much." -M.M., Walpole