In the past, many non-violent video games simply weren't fun, but today that's no longer the case–and the list of qualifying games is growing. Whether you're looking for game-based learning or simply games that are fun to play, all of the video games on this list represent an impressive design achievement, and they are definitely worth a play. Whether kids will actually enjoy the game or not, especially in an era dominated by Fortnite and wildly action-packed gaming environments, depends largely on their mindset and what they expect from a game. 
The Pew Research Center reported in 2008 that 97% of youths ages 12 to 17 played some type of video game, and that two-thirds of them played action and adventure games that tend to contain violent content. A separate analysis found that more than half of all video games rated by the ESRB contained violence, including more than 90% of those rated as appropriate for children 10 years or older. Given how common these games are, it is small wonder that mental health clinicians often find themselves fielding questions from parents who are worried about the impact of violent video games on their children.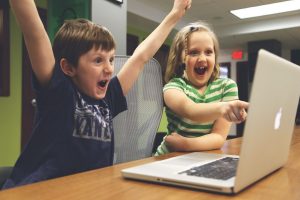 The view endorsed by organizations such as the American Academy of Pediatrics (AAP) and the American Academy of Child & Adolescent Psychiatry (AACAP) is that exposure to violent media can contribute to real-life violent behavior and harm children in other ways. But other researchers have questioned the validity or applicability of much of the research supporting this view. They argue that most youths are not affected by violent video games. What both sides of this debate agree on is that it is possible for parents to take steps that limit the possible negative effects of video games.
Though it may not be absolutely correct to say that every single one of these video games is entirely free from any matter of violence whatsoever (because violence is a matter of both degrees and interpretation), it is true that for the most part, they are indeed non-violent games, and certainly nothing approaching the reality of games like Call of Duty or Grand Theft Auto. The standard here is that you don't consider games like Super Mario or Minecraft violent, even though there are what could be considered violent behaviors in them. It's about tone and intent and how that "violence" is framed. Please be sure to check out developer websites or YouTube for gameplay videos to make sure you know what you're getting into if you intend on purchasing any of these games.
Please note that none of the games included here are 'learning games' or related apps like Sesame Street, Dr. Panda, Toca Life: School, Marco Polo, etc.–meaning these are actual video games with (mostly) traditional gameplay mechanics. Though this isn't absolute, the list is created for children ages 8 and older. 
Nintendo Switch: 
Animal Crossing
Super Mario Maker 2
Splatoon 2
Super Mario Odyssey
Captain Toad: Treasure Tracker
Katamari Damacy Reroll
Pokemon: Let's Go Pickachu!
Just Dance 2021
Mario Kart 8 Deluxe
Yoshi's Crafted World
Super Mario Party
Donut County
Spirit Of The North
Luigi's Mansion 3
Kirby Star Allies
Paper Mario Origami King
Pikmin 3
PlayStation 4: 
Gran Turismo Sport
Rock Band 4 (also consider Guitar Hero)
Crash Team Racing: Nitro-Fueled
Stardew Valley
Flower
Minecraf
Rocket League
Journey
The Witness
Fez
Dear Esther
Little Big Planet 2
MLB The Show 2020
Xbox One
Cities Skylines
Assassin's Creed: Origins (Museum/Discovery modes)
Disneyland Adventures
Zoo Tycoon
Bridge Constructor
Old Man's Journey
Super Mega Baseball 2
Roblox
Forza Horizon 4
iOS
Super Mario Run
Civilization V
Sims 4
Democracy 3
Pokemon Go
Minecraft
Never Alone
Way Of The Turtle
The Gardens Between
The Talos Principle
SimCity BuildIt
The Kids We Were
Sky: Children Of The Light
Flower
Florence
Harvest Moon
Farming Simulator 2019
Sonic Dash
X-Plane Starship
Allison Green
Boston Tutoring Services