Many school districts, and many parents, say they don't want classrooms to close again, but can American public schools really handle omicron? Several major school systems have said they would not shift districtwide to remote learning, or would do so only if forced to by public health officials. But the looming Omicron wave could challenge the rickety infrastructure that has kept schools running this year. Some classrooms are closing temporarily, as more people test positive or go into quarantine.
"I was not even slightly surprised — I fully expected it," said Olivia Strong, a parent in Manhattan. Her son's cohort of eighth graders is shifting to remote learning because of multiple virus cases in his class.
Things have gone relatively smoothly for American public schools this year, despite targeted classroom closures to contain spread of the virus. School outbreaks have been limited throughout the pandemic, and children are being vaccinated. (Crucially, childhood Covid is almost always mild.)
Across the nation's 13,000 districts and 98,000 American public schools this week, there are about 600 shuttered schools or districts, according to data from Burbio, a company that has tracked how schools have operated through the pandemic. There are fewer closures now than in November. But the Omicron variant appears contagious enough to upend the shaky equilibrium that has allowed schools to stay open. Many are in dire need of substitute teachers and bus drivers, and can ill afford an outbreak that would send many staff members home.
The CDC has encouraged schools to use a "test-to-stay" protocol, in which people who test negative after exposure can stay in classrooms, reducing quarantines and closures. But there are still not enough rapid tests to quickly screen whole classrooms or schools. And many parents have not given consent for their children to be tested for the virus at school.
"If there is a positive case in a class, everyone should just get tested," Erik Berg, vice president of the Boston Teachers Union, said. "If our universities and colleges can test everyone on campus twice per week, it says a lot about the commitment to K-12 education that we can't even test people we know were in the same room with a positive case for six or seven hours."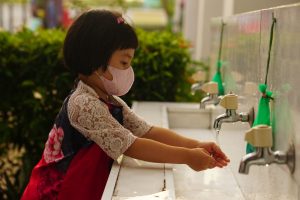 It hasn't been easy to be a student during the pandemic. Here's a look at some of the challenges our kids have faced.
Even as nearly every school opened last fall, teachers had to handle some of the aftereffects of long-term remote schooling. Some kids were melting down at school. Moms struggled, too. This fall, the number of children in crisis under the age of 13 was increasing.
Over the summer, camp directors bore the brunt of kids' anxieties. And in schools, nurses are often on the front lines of the mental health crisis, and they're often overwhelmed by the need. Let's not forget that a staggering number of children — at least 120,000, according to a recent study — have lost a parent or a caregiver to Covid-19. The surgeon general warned this month that young people are facing "devastating" mental health effects as a result of the challenges experienced by their generation, including the coronavirus pandemic.
Remote learning in the last academic year played a part. Few have had a harder time than children coming from immigrant households who rarely speak English at home. Families of color — who have disproportionately borne the impact of the pandemic and the shortfalls of remote learning — are often struggling the most.
"In the more than two decades I've spent as a psychologist working with adolescents, I have never seen teenagers so worn down at the end of an academic year as they are right now," Lisa Damour wrote in The Times this spring.
A survey this summer found that 72 percent of 13- to 19-year-olds have struggled with their mental health. Eating disorders have skyrocketed, too. In a recent survey, about half of middle and high school students in Los Angeles said they worried about their own mental health and that of their families and friends.
This semester, students have been back on campuses. With vaccines, life began to feel a little more normal, at least for some students. But as the Omicron variant spreads, universities fear a worsening mental health crisis. Many students are isolated and depressed, and at a few institutions, there has been a troubling spate of suicides. As cases surge, a big question is what campus life will look like in January. Will classes be remote? Will students be able to gather? Will there even be campus life? During remote schooling last year, some students found that amid the losses, there were some gains, in their unwanted suspension of campus life.
It hasn't been all bad news, however. More schools are planning to use coronavirus relief money to strengthen mental health resources, and a lot of schools have allowed mental health days after teenagers pushed for them.
"My 13-year-old soccer-obsessed son asked to miss school for a mental health day," wrote Holly Roberson, a parent in Berkeley, CA. "He spent the day in bed, sipping hot chocolate and working on a script for a musical. He said it was the best day of his life."
This article originally appeared on the New York Times here.