What are the best tutoring apps for teachers and students? Well, believe it or not, what actually qualifies as tutoring apps isn't clear-cut. Is it a tutoring platform where educational content is available? Is it for teachers wanting to tutor classroom content for absent students, homework help, etc.? Or for the students themselves? What about professional tutors? Blended tutoring? Language tutoring? There's a lot to consider. With that diversity in mind, we gathered 10 of the best tutoring apps and tools for both teachers and students below. The focus is on tutoring apps that any 'tutor' in general, from parents to classroom teachers to professional tutoring organizations, can use to help supplement student learning.
1. Google Drive. By now, you likely know about the tightly-integrated digital locker, Google Drive. An indispensable tool for both tutoring and a paperless classroom, and one of our favorite ways to share, edit, and keep documents across all platforms. Students can use Google Drive to organize for different classes and subjects with folders, easily edit and share documents from anywhere, create presentations and spreadsheets, and collaborate with other students through Google Forms. The possibilities are endless.
2. Explain Everything. This tool allows for real-time collaboration, creativity, and presentations to merge on a digital whiteboard perfect for sharing with students or colleagues. Creating your own videos beats getting students to read textbook chapters by themselves any day. Just press Record to capture everything you say or add to the whiteboard. And voila — a personal video tailored to your kids' needs is ready to share! Students can also record their own response videos to keep them engaged and stimulate their creativity.
3. Teachable. Use your skills, knowledge, and experience to create your own online courses. In a matter of minutes, you'll have access to everything you could ever need to create and sell online courses and coaching. The stress-free Teachable platform makes it easy, tech skills or no tech skills. Show off your brand's unique POV by using our customization tools to curate and personalize your content, and Teachable will take care of layouts, taxes, affiliates, authors, etc.
4. Camtasia. An easy-to-use video editing software designed for all projects in mind. Camtasia is quick to learn. You don't need a big budget or fancy video editing skills. Start with a template or just record your screen and add a few effects. Whether you have experience or this is your first time making a video, we'll give you everything you need to make a high-quality video. Create content your viewers actually watch. A video will give you more interaction and help your audience to learn more than with text alone.
5. YouTube. YouTube is so much more than music videos and clips of animals doing tricks. It contains engaging, informative content at all levels. This video hosting site gives teachers the opportunity to take students around the world, listen to experts on a topic, or hear an explanation for a new idea. One of the reasons why people of all ages are using YouTube is because it's a powerful tool for teaching and learning. Searching on YouTube with keywords can be as hit-or-miss as any Google Search. When looking for the "right" videos, there are a few strategies that teachers can use. Substituting different keywords can help bring different videos to the top of the list. You can also use the advanced search tool to search for videos of a certain length or uploaded within a certain time frame — a great trick for finding recent and relevant content.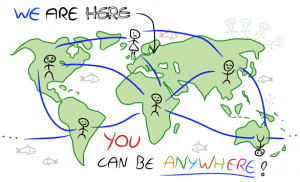 6. iDroo. An infinite whiteboard great for online teaching and class projects. IDroo provides instant real time collaboration in your browser without the hassle. IDroo connects thousands of students with teachers for real-time collaboration all over the world. Upload images, PDF, Word or other documents by simply pasting or dragging them to the board. Document pages and other objects can be locked to the background to work on them easily. The digital paper in IDroo is infinite in all directions and you are working at the center of it. IDroo works in your browser on PC, laptops, tablets, and even smartphones. No download or app required.
7. Khan Academy. Designed for students to help with coursework, teachers to help students, and parents to keep an eye on what and how well their student is doing. Khan Academy allows students to practice at their own pace, first filling in gaps in their understanding and then accelerating their learning. Created by experts, Khan Academy's library of trusted, standards-aligned practice and lessons covers math K-12 through early college, grammar, science, history, AP®, SAT®, and more. It's all free for learners and teachers. With Khan Academy, teachers can identify gaps in their students' understanding, tailor instruction, and meet the needs of every student.
8. Goodnotes. One of our favorite digital note-taking apps. You can also create PDF files, and exports drawings, handwriting, notes, and more easily via email, Google Drive, and more. Thanks to handwriting recognition and OCR technology, your entire library of digital notes is searchable. Create as many folders and subfolders as you need, to separate notes from different courses and school years for example. You can even back up your notes to Google Drive, OneDrive, or Dropbox so your notes are always safe.
9. Microsoft Whiteboard. This digital and realistic whiteboard can turn your creativity and ideas into tables, charts, and shapes. Microsoft Whiteboard provides a freeform intelligent canvas where teams can ideate, create, and collaborate visually via the cloud. Designed for pen and touch, it lets you write or draw as smoothly as you would with ink, while automatically recognizing and transforming shapes and tables as you draw. It enhances teamwork by allowing all team members to edit and comment directly on the canvas in real time, no matter where they are. And all your work stays safe in the cloud, ready to be picked back up from another location or device.
10. Socrative. Connection and understanding with your students is so important, and now easier than ever using this app. Immediate feedback is a vital part of the learning process. Socrative gives you just that for the classroom or office – an efficient way to monitor and evaluate learning that saves time for educators while delivering fun and engaging interactions for learners. Engage your students as learning happens with your choice of activity. Launch quizzes, receive exit tickets, ask quick questions for student feedback, and much more with Socrative.
Allison Green
Boston Tutoring Services